A class action lawsuit filed in Arkansas this week has uncovered some very frightening information about the enormous amounts of potentially very toxic waste being generated by the oil and gas industry and how poorly it is regulated.
According to a recent investigative report by ProPublica, oil and gas producers have injected 10 trillion gallons of liquid waste underground into more than 150,000 waste disposal wells in 33 states.
According to ProPublica, this is often happening even when the operators know the waste disposal wells are out of compliance and could leak.
But it's not just ProPublica saying this. The article reports that a federal prosecutor stated that it is "common" for the operators of these disposal wells to try to avoid the rules–and that this can lead to contamination of drinking water.
So what happened in Arkansas? According to the lawsuit, operators are injecting oil and gas waste underground in areas that they did not lease for such injection. Landowners who claim their underground space has been violated are suing oil and gas companies.
According to the lawsuit, the waste can travel underground for miles –in all directions. It turns out that some of this oil and gas waste was not even staying in the formation where it was injected. It was migrating into a neighboring formation.
The only reason anyone knows this is because the neighboring formation was being tapped for natural gas extraction, and the waste was found in gas wells.
The lawsuit and the ProPublica report add to the growing evidence that oil and gas waste in the U.S. is not sufficiently regulated.
Not only are the rules too weak, thanks to Congress giving the industry a free pass to pollute years ago, but those on the books are not being enforced.
Both state and federal regulators are overwhelmed. Even when violations are found, the penalties are so small that they are not an incentive for companies to clean up their act.
NRDC opposes expanded fracking until effective safeguards are in place. Closing the oil and gas loopholes in our toxic waste laws is just one of the necessary steps toward putting those safeguards in place.
New data on the groundwater contamination in Pavillion, WY and the link to fracking
Last December the U.S. Environmental Protection Agency (EPA) released a draft report of its investigation of groundwater contamination near Pavillion, WY and concluded that it was likely that groundwater in Pavillion was contaminated by the hydraulic fracturing process itself. The ground water has been contaminated by chemicals used in hydraulic fracturing, and that those chemicals most likely reached groundwater through subsurface pathways. Tom Myers, PhD, an independent scientist (and consultant to NRDC) found that the EPA's investigation is scientifically sound.
Last week the United States Geological Survey (USGS) released its own data from Pavillion. The agency's data are consistent with the earlier findings from EPA, reinforcing our concerns – and the concerns of Americans in communities across the country – that dangerous fracking practices are putting our drinking water and health at risk. Dr. Myers analyzed the USGS data and found that the conclusions based on EPA's original analysis should be more widely accepted now that the information about Pavillion's water quality has been replicated by USGS.
It's critical that EPA continue to thoroughly investigate water contamination concerns related to fracking, as it is in its major drinking water study. And it's essential that we get strong federal safeguards on the books to protect Americans from the oil and gas companies that have been running roughshod on communities for too long.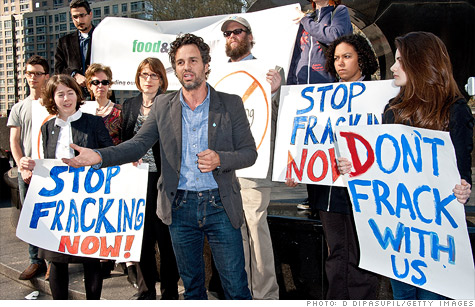 New reports about fracking: crisis in enforcement, economic costs of fracking, and sportsmen priorities
There are three important new reports out from conservation groups about fracking and the environment. They all have critical data and findings, as outlined below:
Breaking All the Rules from Earthworks' Oil and Gas Accountability Project finds that states are betraying the public by failing to enforce oil and gas regulations. It is a frightening report. Among the key findings, based on extensive analysis of enforcement data from six states:
Hundreds of thousands of oil and gas wells–53 to 91% of nearly 350,000 active wells in six states–are operating with no inspections to determine whether they are in compliance with state rules.
Many violations are not formally recorded–-and the decision whether or not to record a violation is often left to the discretion of an individual inspector.
Violations result in few penalties.
When penalties are assessed, they are very low and provide little incentive for companies to comply with the law.
The Costs of Fracking from the Environment America Research and Policy Center finds that the economic costs of fracking include:
Clean-up of drinking water contamination and the provision of temporary replacement water supplies;
Medical care costs for workers and nearby residents;
Natural resource impacts such as increased nutrient pollution in the Chesapeake Bay and reduced hunting, fishing and wildlife viewing opportunities;
Costs related to global warming;
Infrastructure investment needs including road repairs, water infrastructure, and plugging and reclaiming abandoned wells;
Increased municipal and social services; and
Decreases in property values and farm income.
A Sportsmen Poll: Public Lands Protection Trumps Energy Production from the National Wildlife Federation found that sportsmen prioritize protecting public lands above energy production. Among the findings:
Given a choice between protecting America's public lands and prioritizing the production of oil, gas and coal, 49 percent want to protect public lands and just 35 percent choose fossil fuel production.
Two in three sportsmen polled (66 percent) believe we have a moral responsibility to confront global warming to protect our children's future. Additionally, 69 percent agree the U.S. should reduce its carbon emissions that contribute to global warming and threaten fish and wildlife habitat.
By Amy Mall, Senior Policy Analyst, Washington, D.C.