The Ministry of Mines and Energy expects 15.6 gigawatts of wind farm capacity by 2021, compared to 1.4 gigawatts last year.
Wind energy has been the fastest growing source in government auctions for contracts to supply power since 2009, according to the report.
Wind energy capacity in Brazil will rise 11-fold through 2021, faster than any other power source, according to a government draft energy report.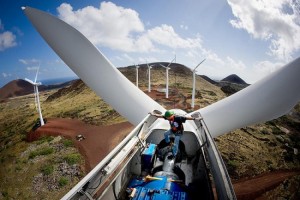 "Contracts signed during the last few years show that wind farms have managed extremely competitive prices, which has spurred the creation of a national industry for equipment to serve the market," according to the report.
Brazil expects capacity will grow 57 percent to 65.9 gigawatts by 2021, according to the report. There were 116.5 gigawatts of capacity connected to the grid last year, the majority of which was generated by hydroelectric power.
The public has until Oct. 31 to comment on the energy plan, the ministry said in a statement.