Finance Minister Njeru Githae yesterday signed a €6 million state-to-state zero interest credit agreement with Belgium and a €6.4 million concessional credit agreement with the KBC Bank of Belgium for part financing of the wind power project.
The Treasury has entered into €12.4 million (Sh1.4 billion) loan agreements to finance the second phase of the Ngong Hills wind turbine electricity project.
The Kenya Electricity Generation Company will commence the project in October, according to managing director Eddy Njoroge.
The wind turbine project will be completed in 12 months from October, adding 6.8 megawatts of power to the grid. It will comprise eight units of 850 kilowatts each.
KenGen is seeking to increase exploitation of wind energy in the country which currently contributes only 0.3 gigawatt hours to the national grid. Njoroge said the company hopes to eventually harness up to 25.5MW of wind power in the Ngong area.
The first phase of the Ngong Hills wind turbine electricity was commissioned in 2009, becoming the first wind farm in the region. The current installed capacity for wind energy at the northern part of Ngong Hills is 5.1MW.
"The first phase of the project proved to be quite efficient than what we anticipated," said Bart Ouvry, the Ambassador of Belgium to Kenya.
A feasibility analysis, according to KenGen, confirmed that the Ngong site was capable of generating up to 14.9GWh of energy annually on average.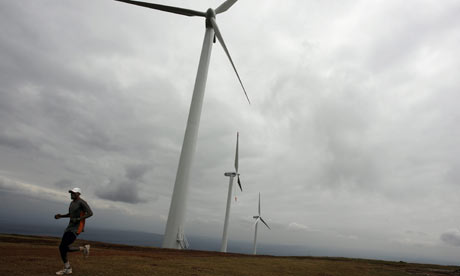 Githae said the government has placed electricity generation, with emphasis on green energy, as a key infrastructural development priority in line with long term goals of the country's development blueprint Vision 2030.
"It is for this reason that the government is gradually increasing funding for investing in generation of power in the country," he said.
About 80 per cent of Kenya's population is still dependent on wood fuels for domestic energy needs, as potential in hydropower, geothermal, solar, wind and biomass is yet to be fully exploited.