The public will get a first look at Russia's electric car at the Moscow Auto Show in the Crocus Expo International Exhibition Center on August 31.
Russia's largest automaker AvtoVAZ unveiled its first electric car for journalists at the Moscow Auto Show on Wednesday.
AvtoVAZ said in a statement that the El Lada is "a first in the history" of the company. The new electric cars will be used as taxis in the mountainous Stavropol region of the Russian Caucasus, the company said.
The El Lada at the Moscow Auto Show is a concept car – the first work of Steve Mattin as the chief designer of AvtoVAZ. The style of the El Lada EV is based on the automaker's petrol-powered Lada Kalina, a popular Russian model.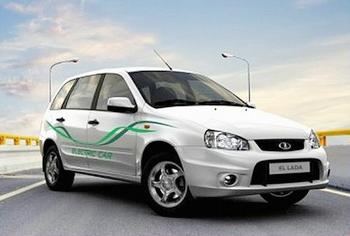 Russia's first electric car, the El Lada made by AvtoVAZ (Photo courtesy AvtoVAZ)
The undisclosed electric powertrain enables the car to travel up to 93 miles on a charge. It has a top speed of 130 kilometers per hour (about 81 mph), the company says.
The El Lada's battery takes eight hours to charge if plugged into a normal household outlet, according to the company.
The Russian auto giant said that low-volume production of the first electric car in its history, "has already begun."
Last November AvtoVAZ Vice President for Technical Development Yevgeny Shmelyov said the company plans to produce 100 El Lada electric cars in 2012.
But there are obstacles to the operation of electric cars in Russia, according to the Autostat Analytic Agency – low winter temperatures in the most regions of the country, a lack of recharging infrastructure and a lack of component production. All the special components the El Lada are imported, the analytic agency said.
AvtoVAZ president Igor Komarov Wednesday expressed confidence in his company. "AvtoVAZ is different. We have successfully implemented a program of development from the stage of "survival" to the stage of "company moves to bring new products to market."
"Today we demonstrate future styles of Lada," said Komarov.
"AvtoVAZ is multibrand," he said. "At the end of this year we will start assembling Nissan cars, and in 2013 – Renault."